PRESS ADVISORY
New Hampshire Automobile Dealers Association • 507 South Street • Bow, NH 03304 603-224-2369 • Fax: 603-225-4895
Contact: Pete McNamara
Phone: 800-853-3372
Laconia, NH – Ricky Richardson, a student in the General Motors Automotive Service Educational Program (GM ASEP) at LRCC, is one of 70 students who collectively earned nearly $100,000 in foundation scholarships in 2020.  
"This scholarship means a lot to me, and will help me pursue my dream of following in my grandfather's footsteps, to become an automotive technician," Ricky explained "The GM ASEP program has taught me so much in such a small amount of time, so I'm excited to apply what I have learned."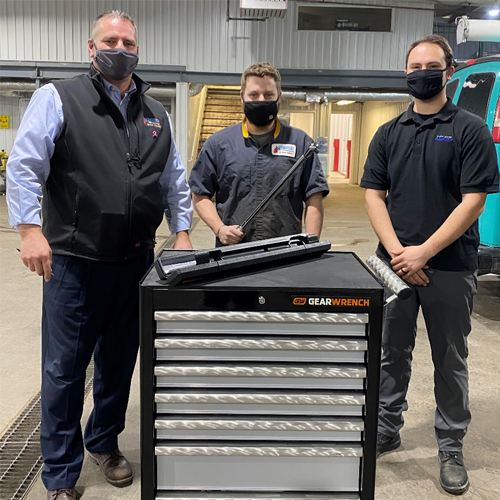 PHOTO CAPTION
: Though you can't see it through the mask, Ricky Richardson is all smiles as he received his new tool box and tools purchased using a merit scholarship provided by the NH Automobile Dealers Education Foundation. These tools will go a long way to help Ricky get a strong start in the business. Pictured L-R above: Jeff Scarinza, General Manager, Newport Chevrolet, Ricky Richardson, GM ASEP student, and Forrest Powers, LRCC GM ASEP Instructor and 2015 program graduate.
Newport Chevrolet is Ricky's sponsoring dealer and host of his student co-op or work based learning. The General Manager of Newport Chevrolet, Jeff Scarinza, has supported the GM ASEP program for the past five years.
"It has become increasingly obvious in recent years that the only way to obtain qualified technicians, is to send them through GM ASEP," according to Scarinza. "With the support from the high schools, dealerships, the instructors, and the NHAEF, these programs are able to thrive."   
The NHAEF awarded the scholarship to Ricky in recognition of the progress he made during his first semester. Since he already had his tuition covered, Ricky was allowed to use the monies toward the purchase of his tool set.  
"Auto tech careers are high tech with high wages," said Pete McNamara, NHAEF Executive Director, "NH Residents are in good hands with students like Ricky and now he'll have his own tools in hand."  
In the beginning of an automotive technician's career, there is a substantial financial investment required to gear up with the necessary tools to service modern vehicles. Entering the industry equipped without the adequate tools can be rather cumbersome.  The New Hampshire Automobile Dealers Association (NHADA) receives support from members and partners across New Hampshire, enabling the its education foundation to award the students with various scholarships to alleviate their financial burden.
"The support and involvement of NHADA and its members in support of students entering the transportation field is tremendous," said Jamie Decato, the Department Chair of Transportation at LRCC. "Connecting students with employers and education is the key to bridging the skills gap and keeping the pipeline filled with the up-and-coming talent necessary to service and repair today's modern automobiles."   
Every year, automotive students across New England make a decision about where they will attend their post-secondary educational experience. Across five of its campuses, the Community College System of New Hampshire (CCSNH) offers a variety of industry leading partnership programs in Automotive, Auto Body, Diesel, Motorcycle and Powersports with the mission of using the latest technology and tools to prepare students entering into high demand career tracks within the transportation sector, in NH and throughout Northern New England.  
The New Hampshire Automobile Dealers Association (NHADA) is a statewide trade association, representing the interests of the motor vehicle retail industry. Membership consists of all of the new equipment, car, truck, motorcycle, snowmobiles, and on-road and off-road recreational vehicle dealers, as well as, independent dealers, motor vehicle service, auto body repair, and motor vehicle parts sales facilities.